It's been a while since our last feature-introducing piece. What you didn't know was that this was a well-thought strategic move that played perfectly into our "quiet before the storm" narrative, which we're calling Crowd Sales!
With its release, we again give a face to our ability to be constantly evolving, growing, and developing new features. We put a lot of effort into running tests and reevaluating everything repeatedly so that Crowd Sales would function smoothly and error-free.
What's Crowd sales?
Crowd Sales is the culmination of great teamwork. Now, we have an interactive window where new tokens from other projects are displayed and pre-sold to avid users trying to make a difference. It's a new facilitator between DeFi projects with new tokens and users eager to buy them in the shape of an investment opportunity.
Crowd Sales is about providing a window on our opportunity page where smaller investors can pre-purchase tokens tied to our partners' cryptocurrency projects, a win-win financial bridge for both sides.


We do this by introducing a new project's token in a pre-sale window, under their own sets of rules and pre-sale promotion. This is a way to ensure everyone sees the latest offers and prices.
Developing Crowd Sales has, to our delight and hopes, enabled us to accept new tokens for pre-sales, help other projects find a market foothold, give users a chance to become first investors in young projects, and play around with our opportunity page design because we totally dig that!
Crowds Sale is a long-time arriving project that we monitored closely. It was an inseparable and defining part of our 2023 roadmap, which we're glad to launch.
Why Pre-purchase New Tokens From CrowdSwap?
Usually, after a new cryptocurrency project is launched and gets out to the public, the minimum investment price tags on their websites fly way over the head of somewhat smaller investors. This deprives projects of potential investors — no matter how small their contribution size would be.
This was the telltale sign of an opening, a gap that could be reasonably patched with a well-placed feature, so we took it! And, as it's crystal clear by now, we called this well-placed feature: Crowd Sales.
We will showcase tokens and projects for investment opportunities when Crowd Sales emerges from the testing phase. There's no minimum get-in fee to invest in these tokens, so everybody can chunk out as much as they want. We only select some of the most reliable and well-planned projects with a bright future. Hopefully, they will pick up momentum and make a name for themselves in time. (CrowdSwap can't guarantee their success as it's a completely innit and separate from us matter.) However, if they become fruitful, the financial rewards will stream back to the initial investors who chose Crowd Sales as their doorway to new opportunities.
Crowd Sales Feature Release Date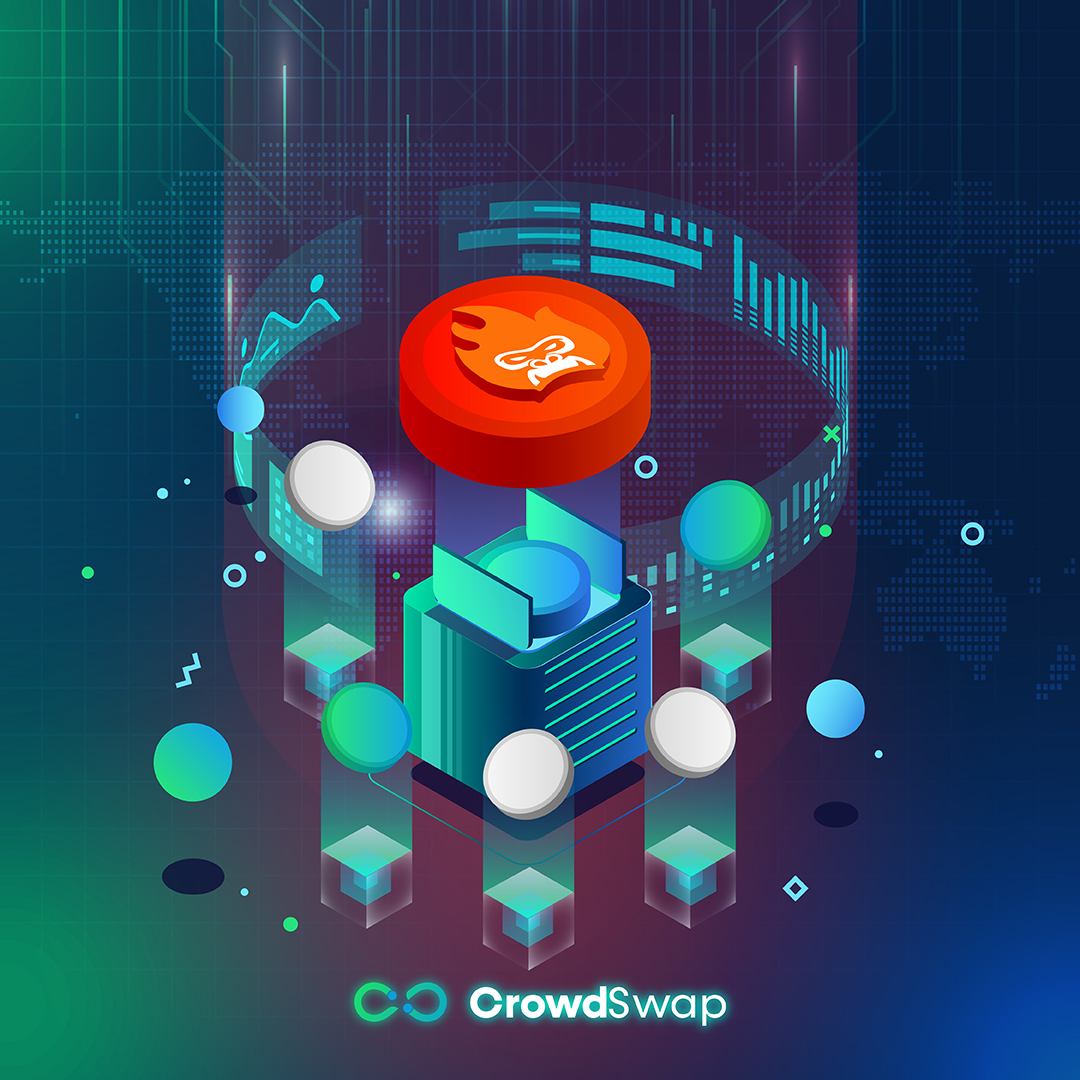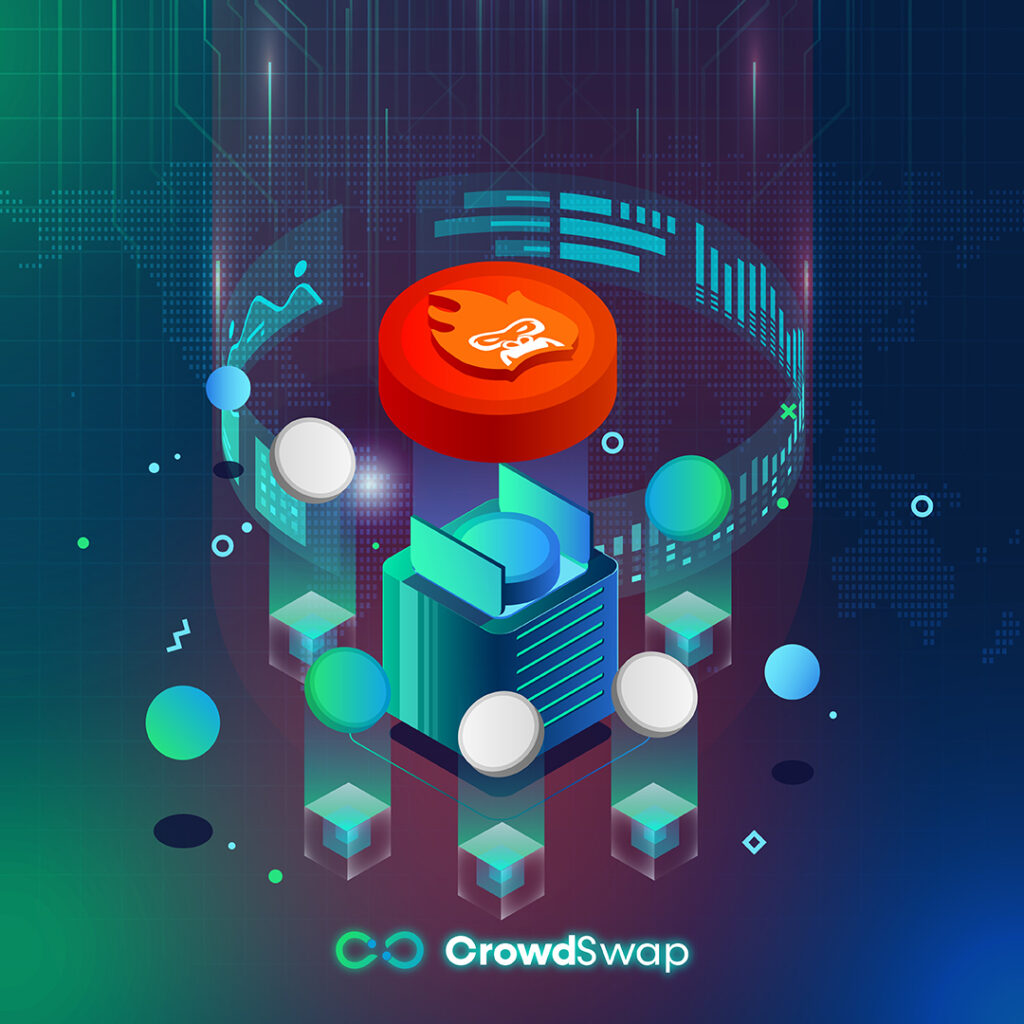 The "Crowd Sales" storm will hit our CrowdSwap opportunity page (dApp) since February 27th, just one day before the love-month ends. But, with the incredible pre-sale offers for new tokens and projects, we're betting this love train won't run out of steam soon! Also, we will continuously add to the list so you can take inventories and have multiple options. For now, Fitburn and its token on the BSC network, the CAL, are the first to make it!
As soon as Crowd Sales is active and accessible, you can easily navigate through the latest token pre-sales and updates, your total personal involvement in any project, and investment details.
More importantly, a lot of informative bits are shown out there on Crowd Sales. This way, you'll get the complete picture of any pre-sale to make a well-informed decision before adding to your total investment cap.
Note: Token pre-sales will be up for fixed times, after which the event is finished. During this time, pre-purchases are only permissible in USDC/USDT tokens. Still, we've taken the necessary measures to soften the transactions for anyone with other tokens.
Steps in Acquiring Shares Through Crowd Sales Feature
First, in probably the most click-intensive phase, we confirm a pre-sale and give it the green light, meaning they'll be immediately moved up to the Crowd Sales window.
When up, you can browse through different pre-sale items, pick the one that suits you the best, and select how much funds you want to put in by pressing the "Invest" button.
Investments transpire with funds, and the total value of your investment will be saved in our system. Funds are only acceptable in USCD/USDT, and that's when CrowdSwap's crosschain capabilities come in handy. Suppose you have tokens from one of our four networks and want to lock down the investment; that's when you can rely on our crosschain and swap features to get the job done!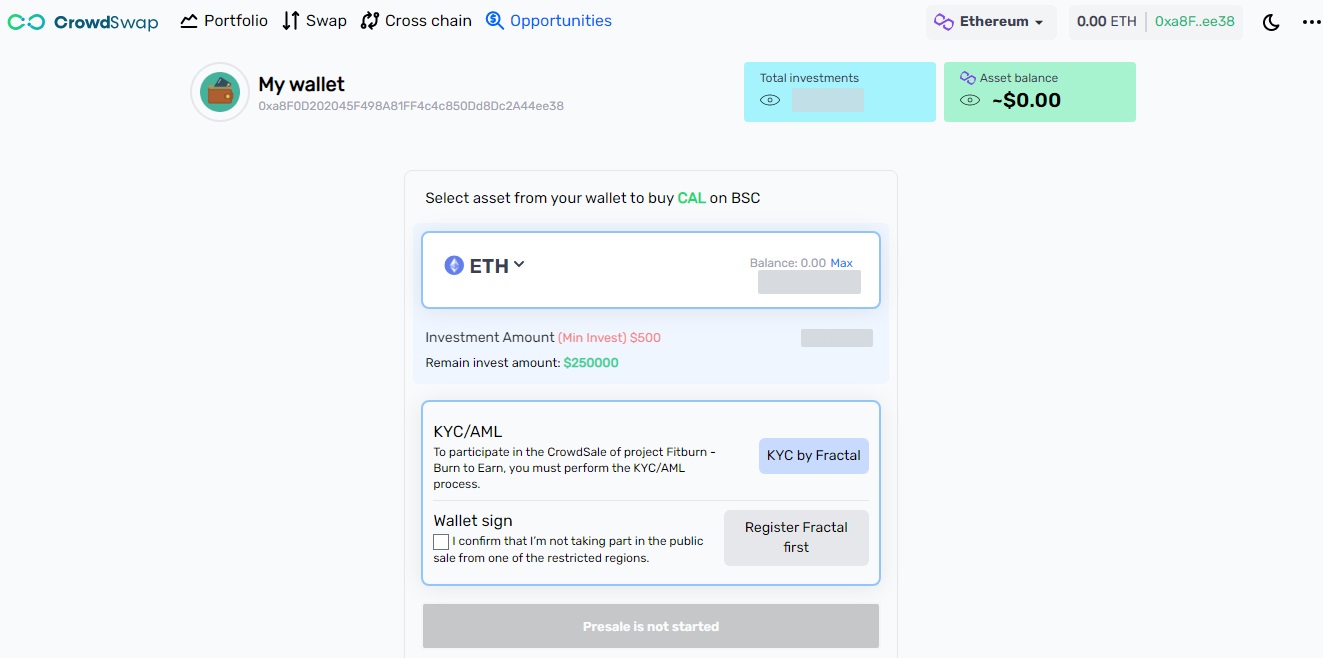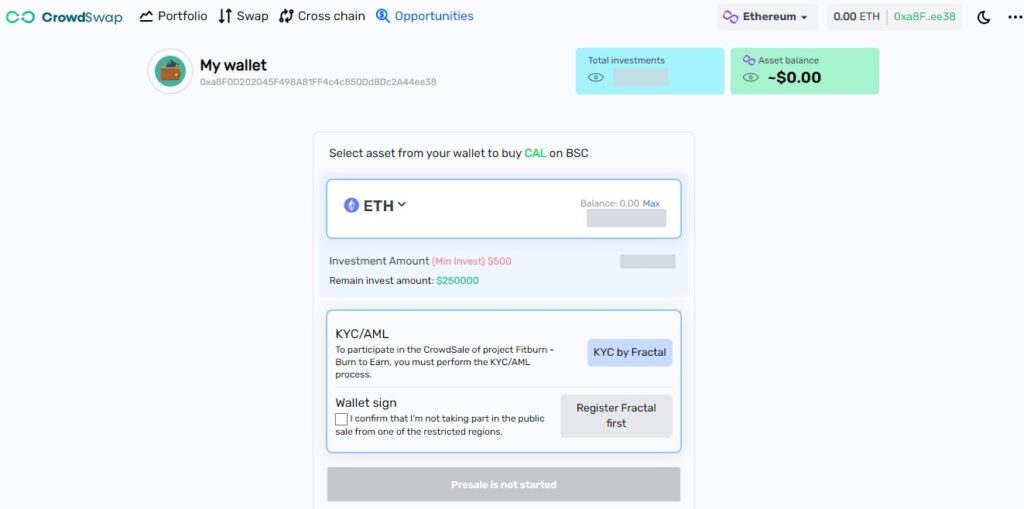 That said, it's crucial to remember that no tokens will be immediately transferred to your wallet after investing. This will not happen until the token pre-sale is over. After such time, based on the total investment value and our partner's rulesets, we will begin to calculate each user's/investor's tokens share and, subsequently, transfer the assets to their pre-verified wallets. So, based on what token pre-sales you participate in, the final tokens could take some time to appear in your wallet dashboard.
Also, before hitting the "Invest" button, you will be asked to sign the terms and conditions of the project alongside doing a KYC to get verified. These are essential to every new token pre-sale purchase and the overall Crowd Sales process solidification, as you won't be allowed to step into the next phase.
Here are the KYC components you need to finalize before moving up to the next stage of the investment: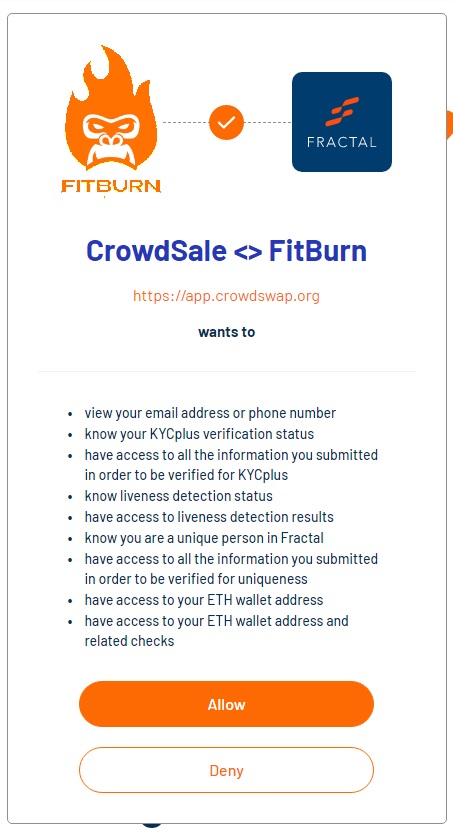 Keep in mind that KYC is required for each user no matter how many wallets they sign into the process. Once the KYC is done, all other pre-sale interactions will be automatically approved. However, if other token providers request a new set of KYC qualifications to be performed, users have to go through the KYC stage again.
Furthermore, you can read more about our partnership with Fractal, who's supporting our users by providing smooth KYC onboarding.
The Bank Waiting Line Stage!
In the next phase – metaphorically resemblant to a "Bank Waiting Line -" you're pretty much done, and your investment is picked up by our smart contract.
Now you can sit in a chair like a bank one and wait until the pre-sale duration is over and your order's fully processed.
During this time, take the liberty of checking the details of your investment by hitting the "Detail" button and scanning through other token pre-sales available on Crowd Sales.


The Before-The-Last and The Last Stages
The before-the-last phase is when your order is finalized by us, and your tokens are getting ready for transfer.
In this stage, we survey all the investments and their total amounts. We usher into the post-sales phase (the TGE), calculating the total number of tokens set for each investor's wallet based on their final investment number.
In the last stage of the Crowd Sales new token pre-sale journey, we will begin assigning token numbers and distributing them to their owner's wallet.
In a more precise tone, pre-purchased tokens are now being transferred to your wallet in proportion to your total investment. Our smart contract will automatically calculate all this, so you don't need to worry about the algorithm and the calculations.
Vesting Schedule
We can all make out the impact of releasing the total token shares from a Crowd Sales offer in one setting. It'd destroy the value of that specific token so much that it'd become irrelevant.
There have been many names given to this phenomenon. However, our partners (token owners) will have the option to put policies in place to counter it. This way, they keep their token value up as the assets slowly and in small numbers get released to investors in multiple settings over an extended period – usually a few months.
This means that tokens will not be immediately released to your wallets. It might take a few months for all the token distributions to finish.
What About Special Offers?
We're ready to put up any special offer our partners want us to showcase. However, some token pre-sales might not include them, and some might present multiples. For this matter, the freedom of special offers (tickets, offs, etc.) goes directly to our partners and token providers.
This is another reason to return to the pre-sale window and remember the Crowd Sales storm! It'd be a sad cloudy day to find out you missed another excellent pre-sale. We don't want you to look back and let out a heart-melting sigh about how you might've had more if you had paid more attention to the sales we're putting up!
So, follow the #Crowd_Sales hashtag on our social media platforms for new pre-sale notifications and their conditions and rules.
Support for Crowd Sales
As always, we're here for you. You can contact us regarding any Crowd Sales technical difficulties, malfunctions, and questions that might throttle your investment.
Use Discord to share your concerns and submit your inquiries about Crowd Sales and a token buy.
We wish you a happy investing time and hope you get the best out of each token pre-sale deal.
Disclaimer: This is not financial advice. There are risks associated with investing in crypto. DYOR!