What is Ethereum?
Ethereum and BNB Chain are two of the most popular blockchain networks out there. Each of these two blockchain networks has great capabilities unique to them. Ethereum is one of the most practical blockchains that enables smart contracts and running decentralised apps (dApps). The native token of the Ethereum network is Ether (ETH), which is the second largest cryptocurrency in the world in terms of market capitalisation. Because many projects, including NFTs, are based on the Ethereum network, having some ETH in your wallet is a must to be able to pay the fees.
What is BNB Chain?
On the other hand, BNB Chain is another well-established blockchain network that is very popular amongst the crypto community. As you may have guessed, this network is backed by Binance exchange, and is powered by its native token, i.e., BNB. The fees on BNB Chain are competitively low and it can handle a good number of transactions per second. There are many great blockchain projects that are built on top of BNB Chain, and that is why covering transaction fees of the tokens on this network will require you to have some BNB in your wallet. Sometimes the users may need to swap ETH to BNB or vice-versa to be able to pay the fees, and that is what this article is going to teach you.
Swapping ETH to BNB on Trust Wallet
Before starting with your swap, you need to know that you cannot swap two tokens that are not on the same network with conventional methods. Therefore, ETH that is on the ERC20 network cannot be swapped into BNB that is on the BEP20 network unless you use a cross-chain platform. If the source and destination tokens are on different networks, you may need to have to look for alternatives like a centralized exchange or a decentralized platform that supports cross-chain swaps.
The cross-chain option is becoming very popular because of its fast, secure, and effortless procedure. It is highly recommended to use this because you don't need to transfer your assets somewhere else, and everything is done for you automatically. By connecting your Trust Wallet to CrowdSwap, the system does all the work on your behalf and swaps your ETH to BNB with only a few clicks.
However, if the ETH tokens you have in your Trust Wallet are Binance-pegged, you can easily swap them to BNB. To find out what network your tokens are on, just tap on your asset on Trust Wallet and check the top left corner of the screen. If it says "BEP20" and the name of your token is "Binance-Peg Ethereum", then it means that your ETH is on BNB Chain network and you are good to go. But if it says "COIN", it means that the ETH is on its own network, which is ERC20, and you cannot swap it to BNB in Trust Wallet.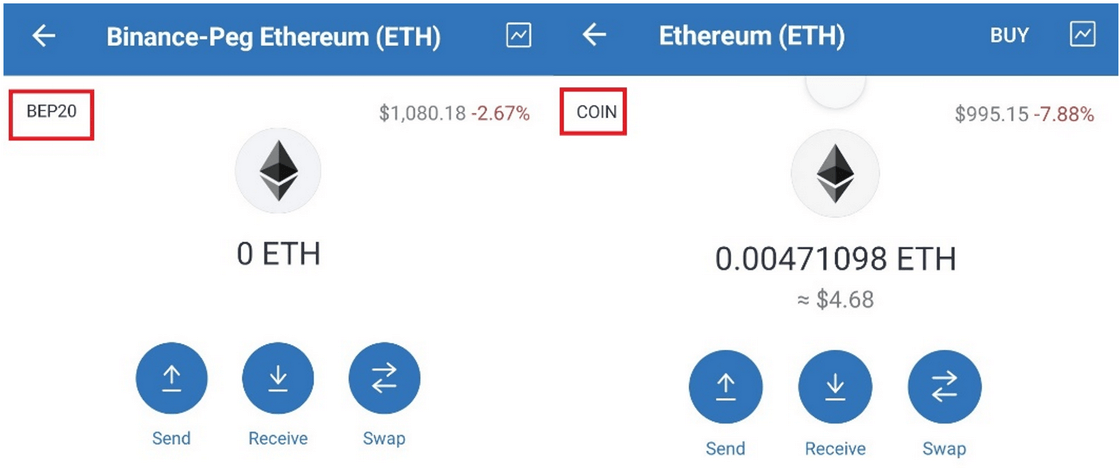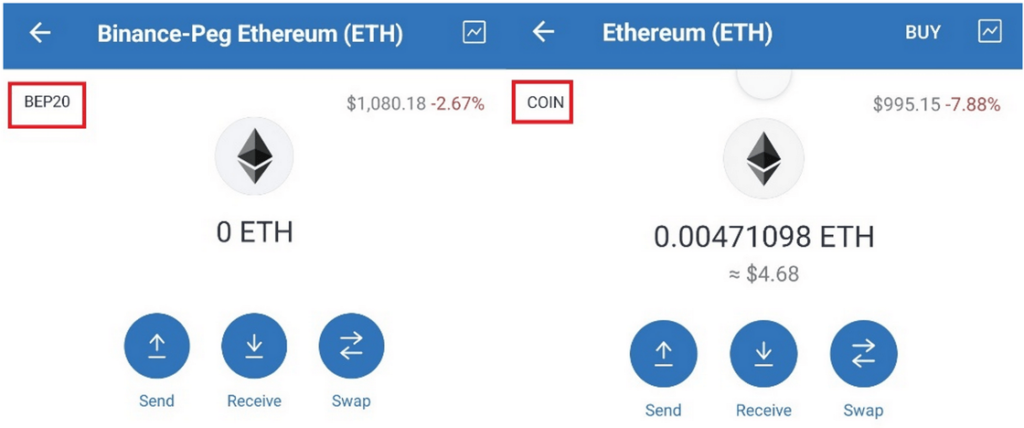 If both tokens are on the same network, follow these instructions to swap ETH to BNB in Trust Wallet:
Tap on Binance-Peg Ethereum and hit swap and then choose SWAP ETH.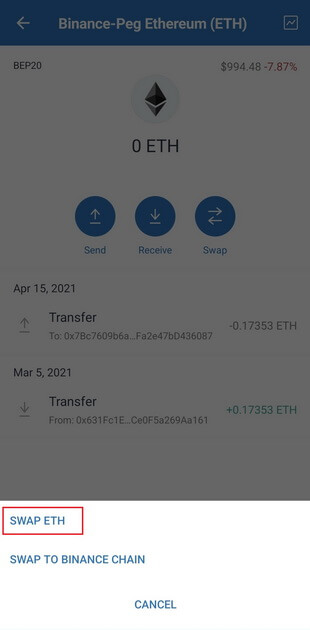 Trust wallet will require you to Approve your ETH first before swap.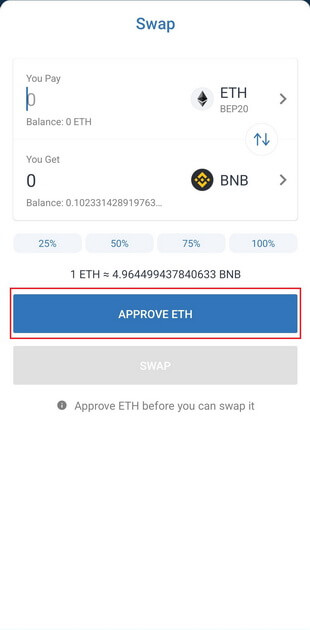 In Smart Contract Call, hit CONFIRM. Executing the smart contract will require a fee.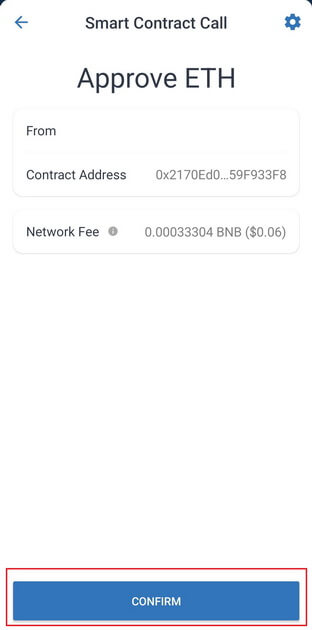 After approval, the SWAP button in step 2 will be active.
Enter the amount you want to swap and hit SWAP. Make sure that Binance-Peg Ethereum is on top and BNB is below it.
Hit CONFIRM for final approval. Wait until the process is done.
Congratulations! If you have done these steps carefully, your ETH should be swapped into BNB and the amount should be added to your wallet.