MetaMask has become a household name in blockchain and cryptocurrency, providing users with seamless interactions with decentralized applications (dApps) and managing digital assets. One of Ethereum's groundbreaking advancements, and Arbitrum is an innovative layer-two scaling solution that enhances transaction speeds while decreasing fees; users can add Arbitrum to Metamask and access these features together on the CrowdSwap platform.
Add Arbitrum to MetaMask on Crowdswap
This step-by-step guide will demonstrate how to add Arbitrum to MetaMask via Crowdswap for faster and cost-efficient transactions.
Step 1
Install MetaMask (if Not Already Installed).
1: Install and download MetaMask onto your web browser (Google Chrome, Mozilla Firefox, or Brave).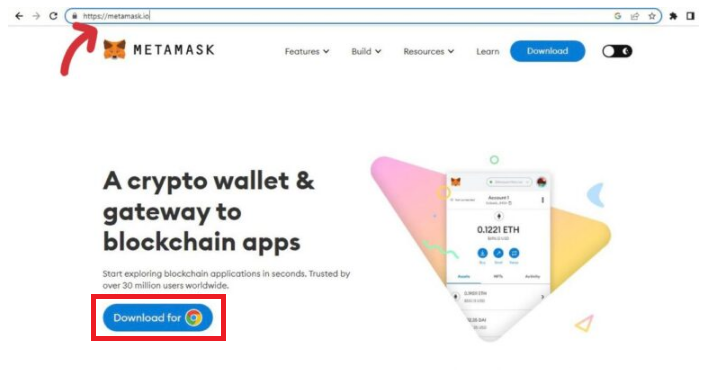 2: Once installed, launch MetaMask and create or import a wallet in MetaMask.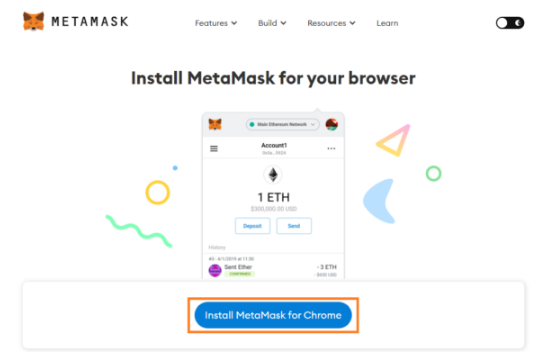 Step 2
Open MetaMask and Create or Import a Wallet
Clicking the MetaMask icon in your browser's toolbar to activate its extension.
If you already have an existing wallet, click "Import Wallet" and follow the prompts to import it using your seed phrase or private key. If this is your first time using MetaMask, click "Create a Wallet" and follow its instructions.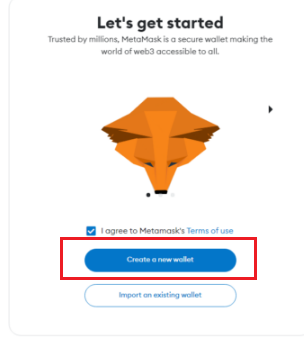 Step 3
Switch over to Arbitrum Network
1- Once logged into MetaMask, click on the drop-down list that displays "Ethereum Mainnet" or another network name at the top of your extension.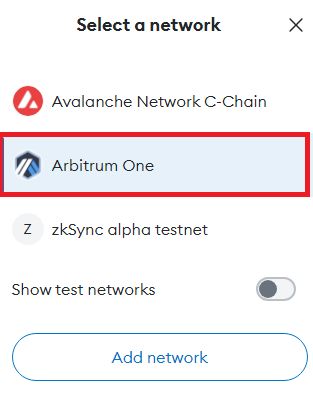 2- if Arbitrum was in your MetaMask list, you could add the network directly;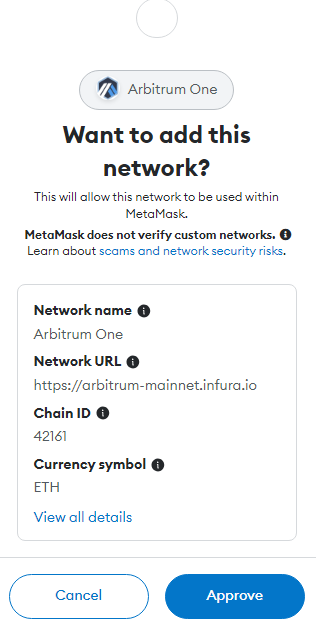 Otherwise, Scroll down and click "add the network manually."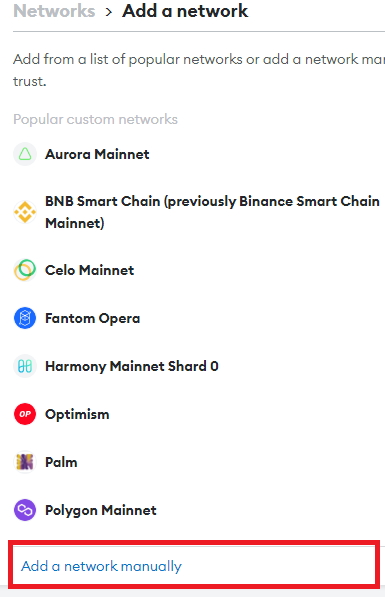 3 –Under "add the network manually," enter your Arbitrum network's details.
Here are the specifications:
Copy and Paste the detail into the box
Network name: Arbitrum One
RPC URL: https://arbitrum-mainnet.infura.io
Chain ID: 42161
Symbol: ETH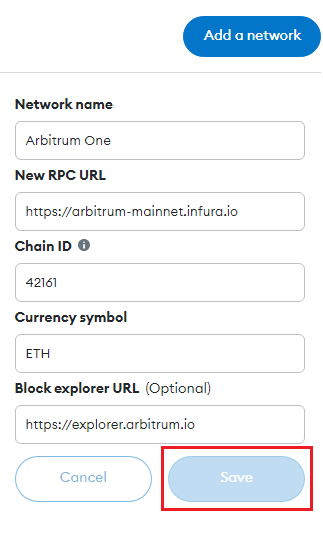 4- Once completed, click "Save."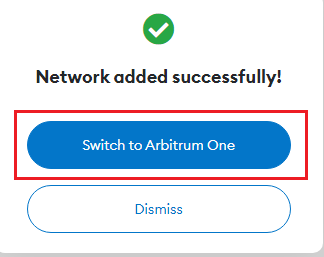 After adding Arbitrum to MetaMask, you are ready to experience faster and more cost-efficient transactions on the Crowdswap platform. Explore its various features while enjoying an enhanced user experience thanks to Arbitrum.
Why add Arbitrum to MetaMask?
Arbitrum adds several notable advantages to your MetaMask wallet, enhancing your experience of decentralized finance and blockchain applications.
Here are just a few compelling reasons for you to add Arbitrum:
Improved Transaction Speeds
Arbitrum, an Ethereum layer two scaling solution, significantly speeds up transactions. By adding it to MetaMask, Arbitrum gives users near instantaneous transaction confirmations – making interactions with dApps, swaps, and transfers faster and more efficient than ever.
Reduced Transaction Costs
Ethereum's mainnet can sometimes suffer from exorbitant gas fees during network congestion. Arbitrum helps alleviate this issue by offering transactions at significantly reduced fees – adding it to MetaMask will make DeFi activities more cost-effective!
Experience Enhancement
With faster transaction confirmations and lower fees, using Arbitrum via MetaMask creates an enhanced user experience, making trading, engaging with dApps, and managing assets more straightforward.
Accessing DeFi Ecosystems
Numerous DeFi projects and platforms have integrated with Arbitrum to take advantage of its scalability and cost-effectiveness. They offer access to an expanded variety of DeFi ecosystems and applications explicitly tailored for layer two solutions. By including Arbitrum with MetaMask, users gain access to these ecosystems.
Seamless Compatibility
Integrating Arbitrum into MetaMask doesn't require creating separate wallets or managing multiple accounts. Instead, you can easily switch between Ethereum's mainnet and Arbitrum within MetaMask, allowing you to select which network best meets your needs.
Support for Ethereum Tokens
Arbitrum is fully compatible with Ethereum tokens, making trading and managing assets on its network straightforward and hassle-free. When combined with MetaMask, adding Arbitrum ensures layer two scaling while keeping access to your favorite tokens.
Ecosystem Growth and Innovation
When more users adopt Arbitrum and other layer two solutions, the Ethereum ecosystem can accelerate. By adding Arbitrum to MetaMask, you are helping promote the adoption and advancement of technologies driving forward the blockchain industry.
Future-Proof Your Wallet
Ethereum's migration to Ethereum 2.0 and development of layer two solutions like Arbitrum demonstrate their dedication to scalability and sustainability, providing users with opportunities to take advantage of them while remaining relevant in an ever-evolving blockchain landscape. Add Arbitrum to MetaMask ensures you can take full advantage of these improvements and stay relevant in evolving blockchain landscape.
Add Arbitrum to MetaMask is a strategic move that provides faster transactions, lower fees, and access to a broader DeFi ecosystem. By taking advantage of layer two scaling technology, you can enjoy an efficient and cost-effective experience while contributing to the growth and innovation of the Ethereum ecosystem.
Read the complete article about What is arbitrum?
Conclusion:
Adding Arbitrum to MetaMask wallet via Crowdswap is a straightforward process that unlocks faster and more affordable transactions within the Ethereum ecosystem. Following this comprehensive guide, you can seamlessly switch to the Arbitrum network, add an Arbitrum token to your wallet, and enjoy a more efficient decentralized trading experience on Crowdswap. Harness layer two scaling technology for an elevated DeFi journey!
FAQ:
Can I Switch between Ethereum Mainnet and Arbitrum on MetaMask? 
Absolutely. Simply use the drop-down list for transactions to select your network preference.
Will my wallet address remain the same when using Arbitrum on MetaMask?
Your wallet address remains unchanged when adding Arbitrum to MetaMask; adding Arbitrum doesn't require creating a new wallet address.
Will My Existing Ethereum Balance Be Available on Arbitrum?
While your balance remains on the mainnet, using the "Bridge" functionality on Arbitrum to transfer assets can make this possible.