Have you been holding onto some Ethereum (ETH) and want to swap it for some Tether (USDT)? No worries, it's super easy to do with a decentralized exchange (DEX). Of course, you can do that through a centralized exchange (CEX), but most people prefer DEXes because they are truly decentralized, highly secure, and transparent.
With CrowdSwap's new service, CrowDEX, swapping tokens with each other can be done in no time. CrowDEX is an automated market-making system that enables projects to launch liquidity pools and establish markets for themselves. CrowDEX also features cross-DEX routing, providing users with a one-click button option to exchange different cryptocurrencies and avoid the negative effects of price impact in limited liquidity pools.
In this guide, we'll walk you through the steps to swap ETH to USDT on a DEX. Just follow the steps below to get the work done like a pro.
What is Tether (USDT)?
Considering the high volatility of the cryptocurrency market, stablecoins are a crucial part of trading in this market. Tether (USDT) is the most traded and popular stablecoin in the market. With a market capitalization of over billions, USDT offers a stable and reliable alternative to volatile cryptocurrencies. Traders and investors often convert their assets to USDT to preserve their yields and prevent losses, making it a go-to stablecoin for many in the market.
What is Ethereum (ETH)?
Ethereum (ETH) is a close second to Bitcoin in terms of market capitalization and popularity. Its versatility and use cases have made it a favorite among crypto enthusiasts, who often buy or swap their existing tokens for ETH. Whether it's for investing or trading, ETH offers a wide range of benefits and is a great asset to have in your portfolio. However, there are some cases when you may want to swap ETH to USDT, for which we're here to navigate you through the process.
Step 1: Choose the Right DEX
First things first, you need to pick a DEX that's got the ETH-USDT trading pair. Lucky for you, ETH and USDT are pretty popular in the crypto world, so finding one shouldn't be too hard. Among DEXes, CrowdSwap offers the most convenient and intuitive platform that can help you swap tokens effortlessly.
Start swapping ETH to USDT with CrowdSwap
Step 2: Set up your Wallet
Once you've picked your DEX, you'll need to set up a wallet that's compatible with it. Some popular wallets include MetaMask, Trust Wallet, and Coinbase Wallet. Simply download and set up the wallet on your device, then connect it to the DEX using the wallet's browser extension or mobile app. In this walkthrough, we will show you how to use MetaMask for the swap.
Step 3: Swap ETH to USDT
You're all set up! Now it's time to swap your ETH for USDT. The process is pretty simple:
1. Connect MetaMask to CrowdSwap
First, make sure you have MetaMask installed on your browser and set up with your Ethereum wallet. Then, navigate to the CrowdSwap App. Wait for the page to fully load and a pop-up will show up, prompting you to connect your wallet.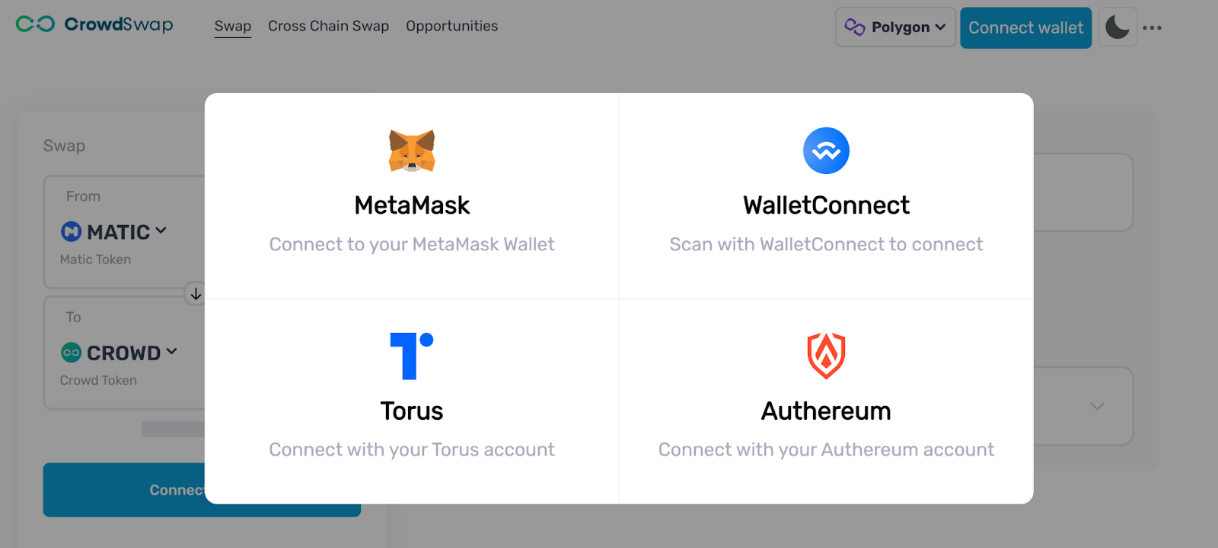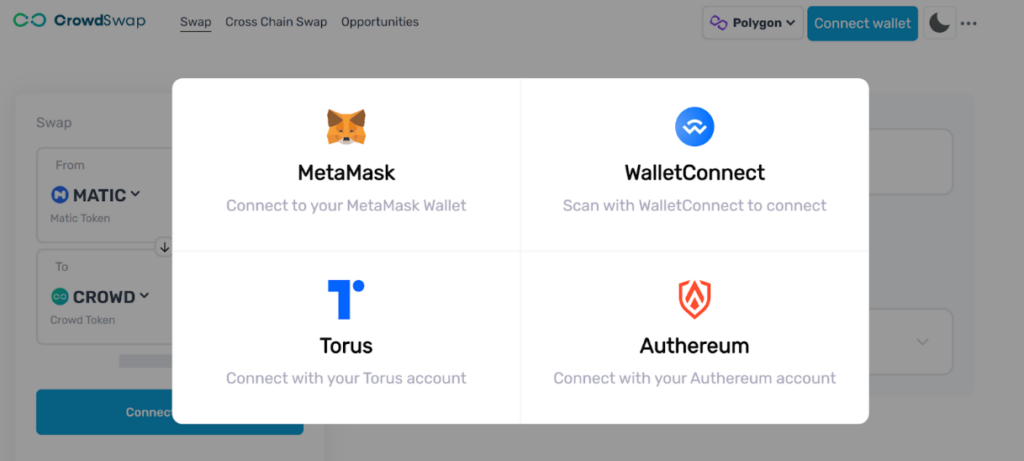 If the pop-up doesn't show, you can connect your MetaMask wallet to the platform by clicking the "Connect Wallet" button on the top right corner of the screen.


2. Choose the Right Network
Before you start swapping, make sure you've selected the correct network on MetaMask. CrowdSwap supports several networks, including Ethereum Mainnet, Binance Smart Chain, Avalanche, and Polygon. Depending on which of these four networks your ETH token is on, choose the network that matches it from the drop-down menu.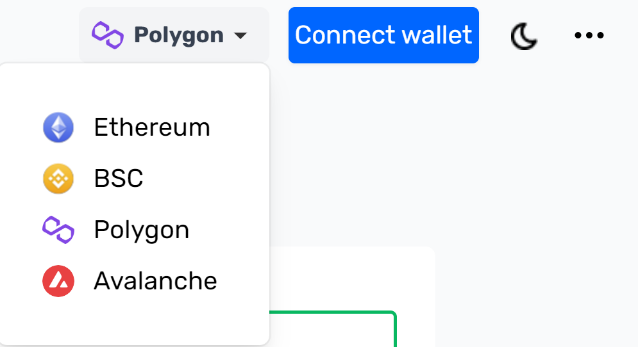 3. Select ETH-USDT Trading Pair
Once you've connected your wallet and selected the right network for swapping ETH to USDT, choose the ETH-USDT trading pair from the list of available options on the left pane. You'll see the current exchange rate, the liquidity of the trading pair, and other important details.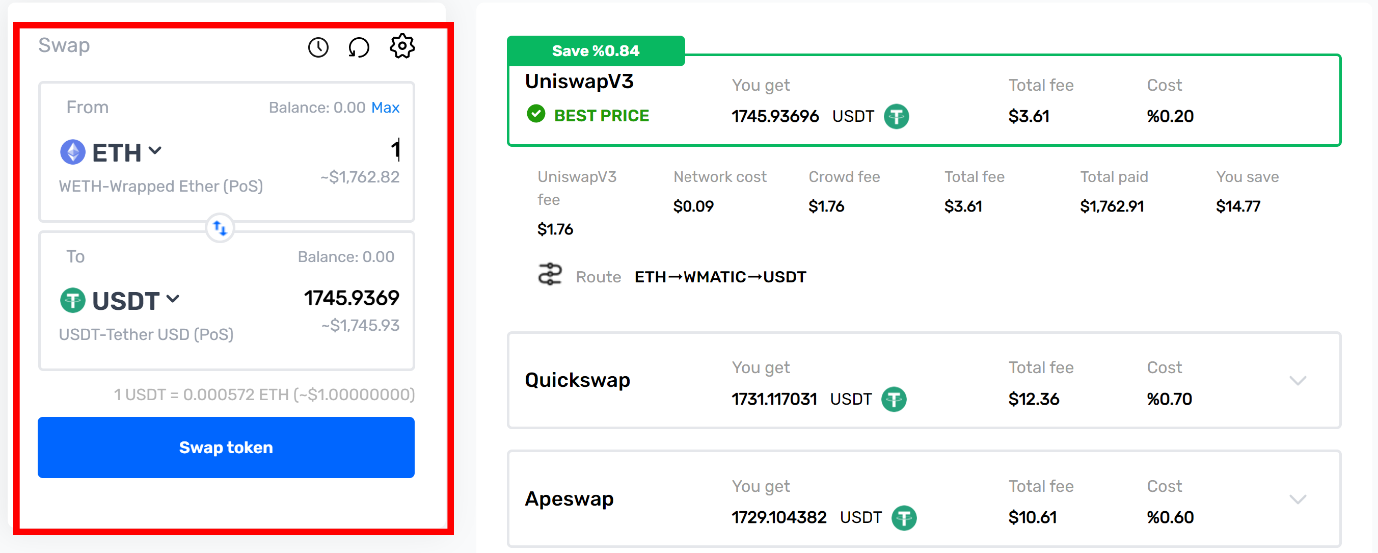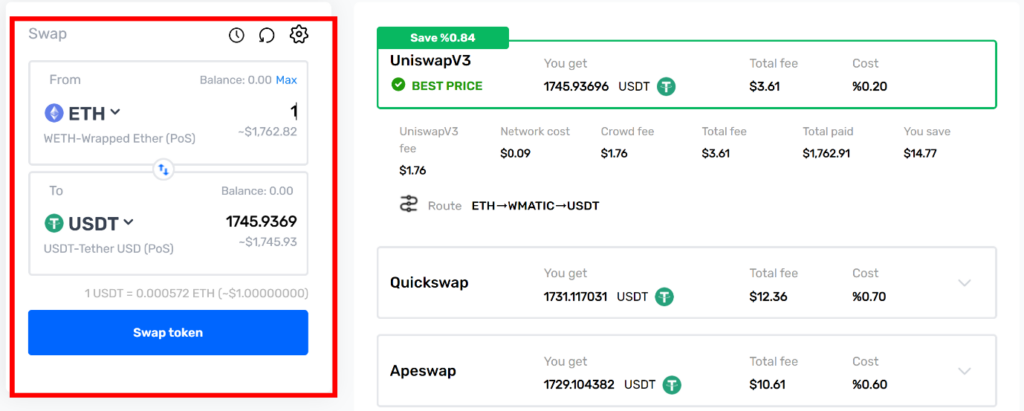 4. Enter the Amount of ETH to Swap
Enter the amount of ETH you want to swap for USDT in the "From" field. CrowdSwap will automatically calculate the amount of USDT you'll receive based on the current exchange rate and liquidity of the trading pair.
5. Choose the Best Price Route
On the right, choose an option for the best price for your transaction.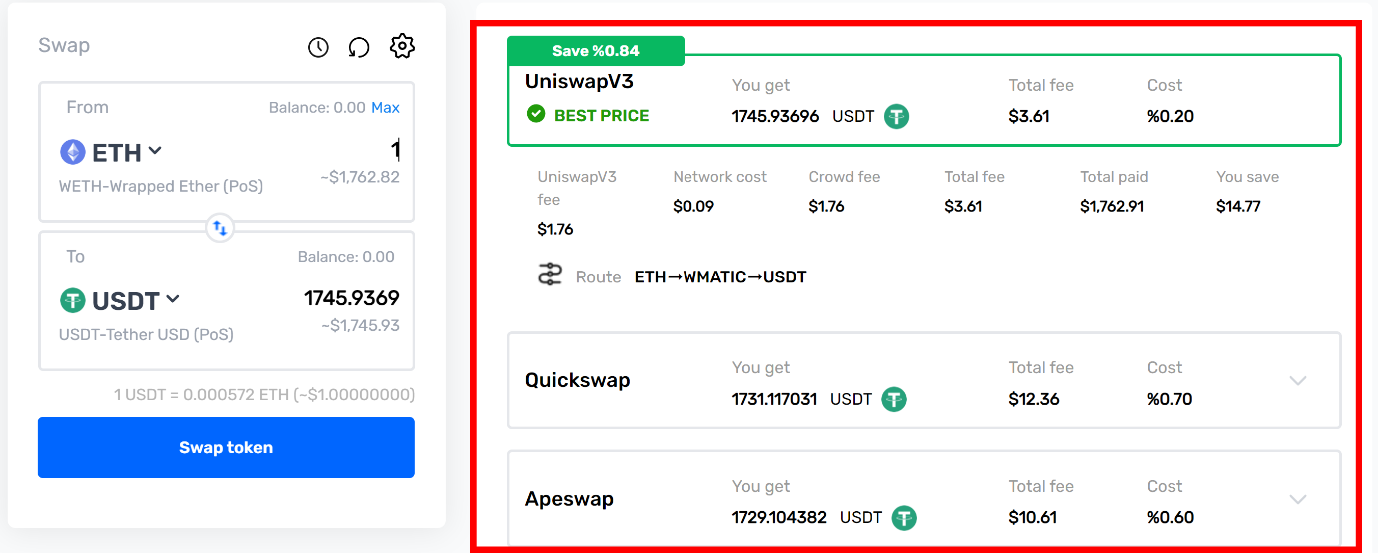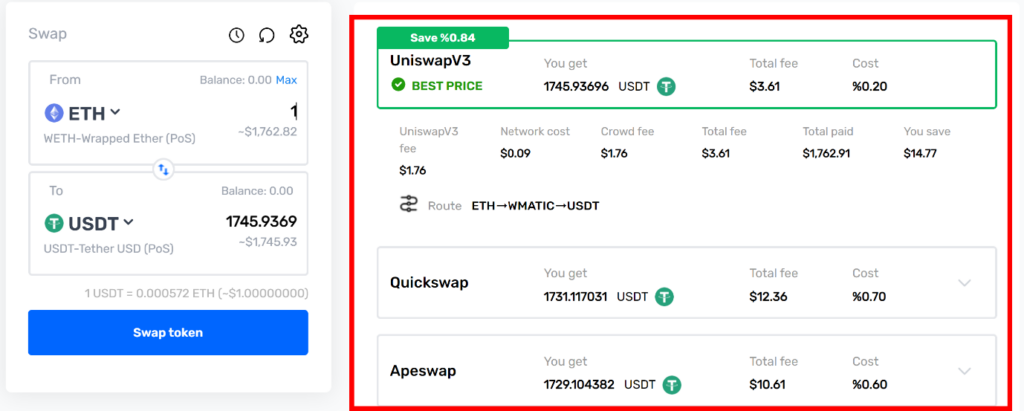 CrowdSwap is well known for its best-price-routing feature that works by aggregating order books from multiple exchanges and then selecting the exchange with the best price for your trade. This ensures that you get the best price possible for swapping your ETH to USDT without having to manually search across different exchanges.
6. Confirm the Transaction
Once you're satisfied with the exchange rate and the amount of USDT you'll receive, click the "Swap token" button to confirm the transaction. You'll be prompted to confirm the transaction on MetaMask, which will show you the gas fee and allow you to adjust the gas price if necessary.
7. Wait for the Transaction to Complete
After you've confirmed the transaction on MetaMask, you'll need to wait for the transaction to be confirmed on the network. This process usually takes a few minutes, depending on the current network congestion and gas fee.
Once the transaction is confirmed, you'll receive the USDT in your Ethereum wallet that's connected to MetaMask. You can check your wallet balance to make sure the transaction was successful.
And that's it! Swapping ETH to USDT using MetaMask on CrowdSwap is a quick and easy process. Just make sure to choose the right network before you start swapping, and check the exchange rate, gas fee, and network congestion before confirming the transaction.