CrowdSwap Launches Crosschain Feature in 'Opportunities'
As of October 3, 2022, CrowdSwap has launched an update in the 'OPPORTUNITIES' section to integrate the crosschain investment feature. Let's discuss how this feature can contribute to a safer, less complex experience of DeFi investment opportunities.
The crosschain solution has been around for some time now. Its main aim is to bridge different blockchains, which enables cryptocurrency users to transfer their assets across two blockchains.
In general, integration of the crosschain swap feature into the offered investment options can facilitate the process of staking and yield farming in many ways, some of which are explained below.
Higher Security
It is a no-brainer to any investor that the number 1 rule of investment of any kind is to make sure that your capital is safe. Therefore, you need to ensure that you don't risk your capital in the process of investing it. Furthermore, despite the benefits of blockchain-based transactions and decentralized finance (DeFi), these come with inherent risks.
Let's imagine an investor would like to stake their Ethereum (ETH) on a Polygon (MATIC) liquidity pool. To do so, they need to conduct the following transactions:
TX0: ETH (Ethereum) -> MATIC (Polygon)
TX1: Swap MATIC -> USDC
TX2: Swap MATIC -> MAI
TX3: Add Liquidity USDC/MAI to Quickswap LP <- receive LP Token from this TX
TX4: Stake LP token
In some cases, the investor might need to conduct each transaction on a different platform, exposing their wallet to different kinds of threats.
CrowdSwap can fully eliminate this risk by offering a crosschain solution. More precisely, with this new feature, the ETH holder doesn't need to take their ETH to MATIC to a different crosschain platform to swap it first. Rather, you can directly put your ETH to a liquidity pool, say USDC-MATIC, and the crosschain swap is done for you automatically. With this integration of crosschain and 'Opportunities', CrowdSwap makes sure that your transactions are conducted on a highly-secure platform. Using this new feature, you can participate in investment opportunities with ease of mind.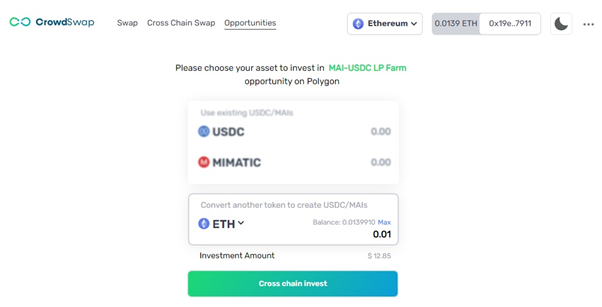 Less Time Spent
Time is of the essence. Volatility in the crypto market can sometimes be so high that huge price changes can happen in a matter of seconds. No investor would want to see his calculations ruined after the job is done. In addition, the slippage issue has been a bottleneck for investors. If the user is to conduct all the transactions in the above example, they are exposed to time constraints. Plus, the less time you spend on transactions, the more secure your transactions will be.
But what if you could reduce the effect of time? This is why you can count on CrowdSwap's new feature to conduct your transactions in the shortest time possible.
Less Complexity
Because transactions on the blockchain network are done peer-to-peer, the investor bears the sole responsibility for checking the transaction information meticulously. Once a transaction is confirmed by the validators, there is no way to revert it, because there is no central authority who has the power to override that transaction. Hence, conducting multiple transactions, often on different platforms, and signing several smart contracts increases the risks of losing your assets in the process.
Let's go back to our earlier example. In case a mistake happens in one of the TX0, TX1, TX2, TX3 or TX4 steps, your assets may be at risk. So, a wise investor would look for ways to decrease the number of transactions to mitigate the risk. In a nutshell, the more transactions, the higher the risk of losing your assets in the middle.
CrowdSwap's crosschain feature helps reduce this complexity by doing everything for you in a single transaction. Therefore, the user doesn't have to worry about the number of transactions on several platforms, because it is done for them automatically. This way, the user can directly stake their existing tokens on any blockchain and the rest is done for them by CrowdSwap.
CrowdSwap; the Ultimate Solution
Now, after the successful launch of the crosschain and CCLP features by CrowdSwap in Q1, and staking and yield farming opportunities in Q3 of 2022, it is time to integrate these two features.
After the launch of this outstanding feature, staking and yield farming opportunities can be done in no time with high speed and exceptional security while making sure that you pay reasonable fees for it. So, head to the 'OPPORTUNITIES' section of the CrowdSwap App and make your first investment using this new feature.