The ambassador (affiliate) program planning is done and dusted, and we can not wait to share with you what we have designed.
What is CrowdSwap Ambassador (Affiliate) Program?
The "Ambassador Program" – ready for sign-ups – allows us to share revenue with our users by giving them a percentage of the transaction fees, resulting from bringing in new users (through an Ambassador ID, which we will get into shortly). We have called it the ambassador program because each individual opting for it represents CrowdSwap in their vision and creative design. They share our core values and take the "make DeFi a better palace" mission to heart, just like us.
What truly sets this referral program apart from other run-of-the-mill ones curated by other projects is that we offer a 20% commission rate, which is nothing less than astronomical. And, with the chance of it jumping up to 50%, we are confident it's tough to ignore!
What's a CrowdSwap Ambassador ID?
For each ambassador, we have dedicated a particular ID. This unique ID can be shared by them with their followers.
An ID specifies an ambassador's information, such as their nickname and email address. These ambassador IDs are a tracking mechanism to keep tabs on the representative's shares and percentages. Please note that we only issue one ambassador ID for each email address (form-filling) to preserve the program's integrity.
How Does the Affiliate Program Work?
The commission model stands as a basic share-profits program.
Everyone can earn a share of the transactional fee by introducing friends, family, followers, or users to our one-stop problem-solving dApp and platform. Consequently, for each transaction registered on our ambassador ID (through cookies), they will receive a 20% chunk of the fee.
There's no limit to how many guests you can invite and with whom you can share your ambassador ID. For us, the more, the merrier.
Steps to Becoming a CrowdSwap Ambassador
Click on the landing page link and begin connecting your wallet
Start filling out your firm and putting down the required information.
Check your email address for the verification email.
Congratulations, after verifying your email, you're officially a CrowdSwap Ambassador.
Completing these steps will prompt an ambassador ID shareable with other users and followers.
The Ambassador Program Rules and Policies
Like any other ambassador program, we have placed a set of rules and policies to clarify and emphasize different diagrams of the program.
Rules
Each ambassador is given an ID, which they share with their community of followers and users. It's crucial to take note that each ID is exclusive to each ambassador, with no chance of duplication. Therefore, there would be no two similarly-spelled IDs issued. This helps our ambassadors stand out, easily tracking the transactions on their referral page and prevents complications and malicious activities.
Commission Rates
We've prepared a table to showcase the exact commission rates for this part. The higher an ambassador's last month's bringing gets, the more percentage they will receive.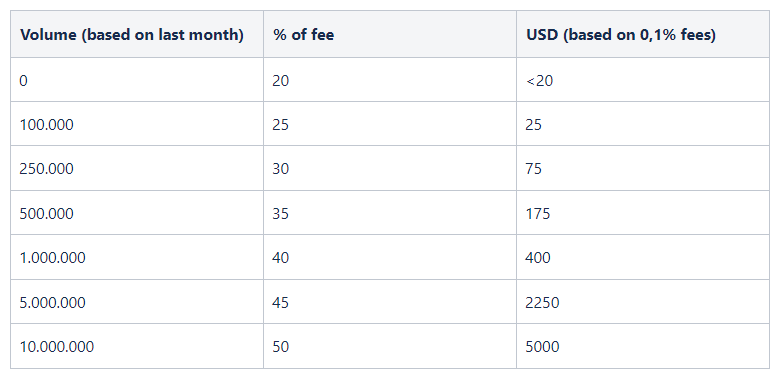 CrowdSwap Ambassador Program Discord Channel
To establish a clear line of communication, we have prepared a dedicated Discord channel for our ambassadors. We welcome anyone wanting to spread our word to join it after they've created their ambassador ID. Inside this Discord channel, we've organized educational content (text and video) about our services and programs and how they resolve the DeFi community's needs and wants. These resources will help push our ambassador's agenda and creative thinking alongside marketing endeavors and pose as excellent selling points.
Our ambassadors can utilize this platform to voice their questions, worries, and feedback. Establishing a two-way communication channel with us. We will constantly update the forums with the latest news and unique announcements so our ambassadors can continue to feed their audience and keep them engaged.
Sign Up Window
The official CrowdSwap Ambassador Program starts today. CROWDers and DeFi users interested in signing up can use
Our convenient and speedy services have laid the groundwork for a great marketing campaign. Now, it's your turn, our Ambassadors, to spread the word and put in the suitable material to attract the right users looking for state-of-the-art Swap and Crosschain Swaps on top of a trustworthy DEX with low prices.