We're about to dive into the world of crypto and gaming, two things that go together like peanut butter and jelly. GALA is the latest player in this exciting space, and we're here to break down what makes it unique, and what factors might influence its price in the future. So if you're ready for a rollercoaster ride of insights and analysis, let's get started!
With the global gaming market expected to reach $300 billion by 2025, there is tremendous potential for GALA to gain value and provide investors with substantial returns. In this blog post, we'll explore the unique features of GALA that set it apart from other cryptocurrencies. We'll also make some predictions about the future price of GALA based on our analysis of the market and emerging technologies. So, if you're ready to explore the intersection of gaming and cryptocurrency, read on!
What is GALA?
GALA is a digital token that has been making waves in the gaming industry, with its primary use being within the exciting realm of gaming. As the native token of the Gala Games ecosystem, this blockchain-based gaming platform puts power back into the hands of gamers, granting them ownership and control over their virtual experiences. Players can use GALA to snag exclusive in-game items as NFTs, swap tokens with other players, and earn rewards within the Gala Games ecosystem. The GALA token is also a popularly-traded token on decentralized crypto exchanges .
Price History & Trends
Since its launch on 18 September 2020, the GALA token has seen a fascinating price history and trend. GALA started at a price of $0.0014, and experienced some volatility in its early months before reaching its all-time low of $0.0001 on 28 December 2020. However, things started looking up for the token in 2021, with a bullish trend that saw it climb from $0.001 all the way to its all-time high of $0.824837 on 26 November 2021. This meteoric rise can be attributed to the growing popularity of the Gala Games ecosystem and the increasing adoption of GALA's native token by gamers and investors alike.
The Play-to-Earn Craze
In Q3 of 2021, blockchain games proved to be the dominant category in the gaming industry, accounting for 49% of the industry's usage with over 1.4 million Unique Active Wallets (UAW) interacting daily with game dApps. One of the main factors contributing to this growth was the rise of play-to-earn video games, which allowed players to generate income while playing and owning their in-game assets as NFTs. In fact, game NFTs amassed over $4.5 billion in trading volume, accounting for 20% of the total NFT sales in 2021.
The trend towards play-to-earn-based tokens was reflected in the performance of several cryptocurrencies, with GALA surging 31,500% and AXS 20,800% from the previous year. This growing interest in the gaming category also attracted significant investment from VCs, who poured over $4 billion into blockchain-based games and infrastructure. Among the most popular games and tokens at that time were Axie Infinity, Splinterlands, The Sandbox, Decentraland, and of course, Gala Games.
Axie Infinity emerged as the most played blockchain game, with more than 2.5 million daily users based on off-chain activity. It also became the most traded collection, with over $3.8 billion in historical trading volume. Splinterlands, on the other hand, was the most played blockchain game based on on-chain activity, with 350,000 daily UAW. Meanwhile, The Sandbox was one of the most popular metaverse projects, attracting over 10 million users and generating over $200 million in land sales.
Decentraland, another leading metaverse project, hosted several events and partnerships with brands like Atari and Sotheby's, further cementing its place in the gaming industry. Gala Games was no exception to this craze. As a gaming platform that hosts several games such as Town Star, Mirandus, and Spider Tank Project, Gala was one of the best-performing gaming tokens, surging over 30,000% in 2021.
Factors Affecting GALA Price
The performance of Gala Games, as well as other blockchain games, is heavily influenced by several factors. One of the most significant is the overall adoption and acceptance of blockchain technology in the gaming industry. As more gamers become familiar with the concept of owning and trading in-game assets as NFTs, the demand for gaming tokens like GALA is expected to increase. Additionally, any major updates or developments to Gala Games' platform or games can also have an impact on GALA's price. Overall, the success of GALA and other gaming tokens in the long term will be dependent on the continued growth and success of blockchain gaming as a whole.
Technical Analysis of GALA Price
Based on the latest GALA price analysis, the coin is currently trading at $0.03037, which is lower than the daily high of $0.03059. The bearish pressure has been increasing in recent days, outweighing buying pressure and causing a decrease in the value of the coin. As most cryptocurrencies are currently trading lower against the US dollar, GALA is not an exception. The 200-day simple moving average indicator suggests that the price is likely to remain bearish in the near term, with the MACD showing a bearish crossover and the RSI is under 50%, dealing with the oversold market condition.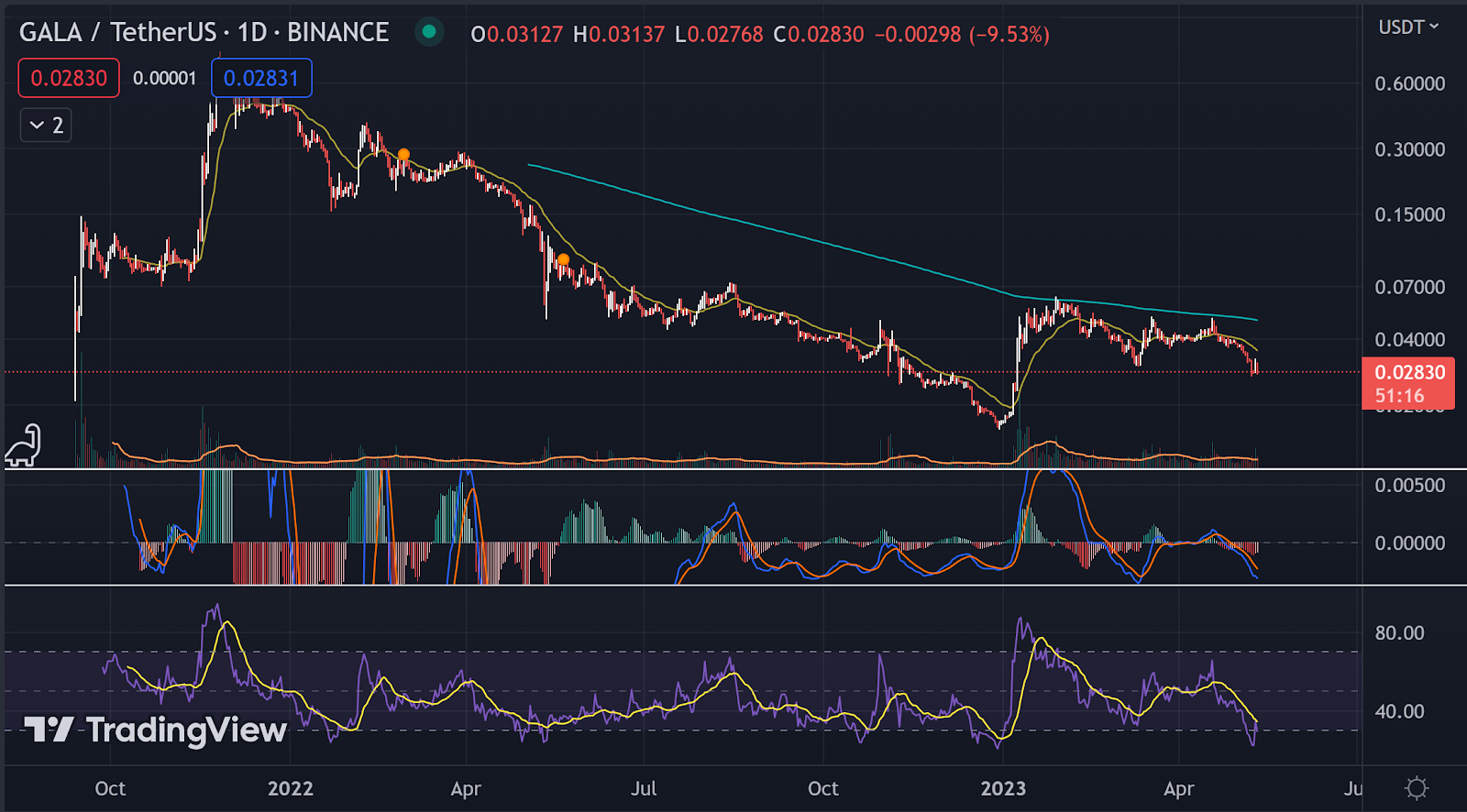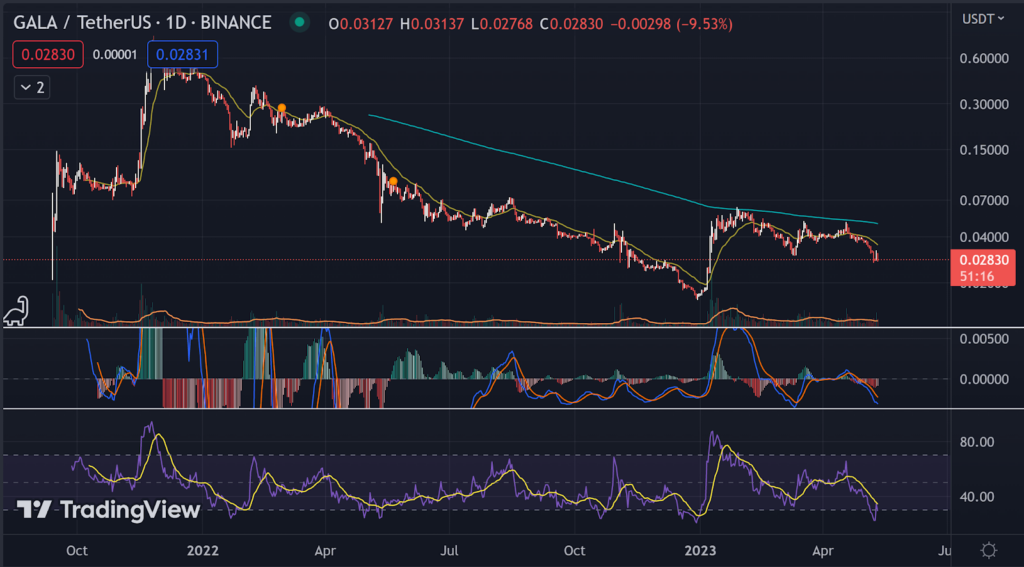 In the latest micro bull run when the price of BTC rose from $15,476 to $31,000, showing a 100.31% increase in price, many alt coins followed BTC to reach the May 2022 level, where there's a strong resistance. GALA also showed the same price action. With the basic trend of Q1 of 2023 being for the majority of the alt coins to successfully break their 200-day SMA and retest the May 2022 resistance, GALA did it beautifully. Although GALA broke SMA 200, it couldn't manage to hold its place and has currently lost it.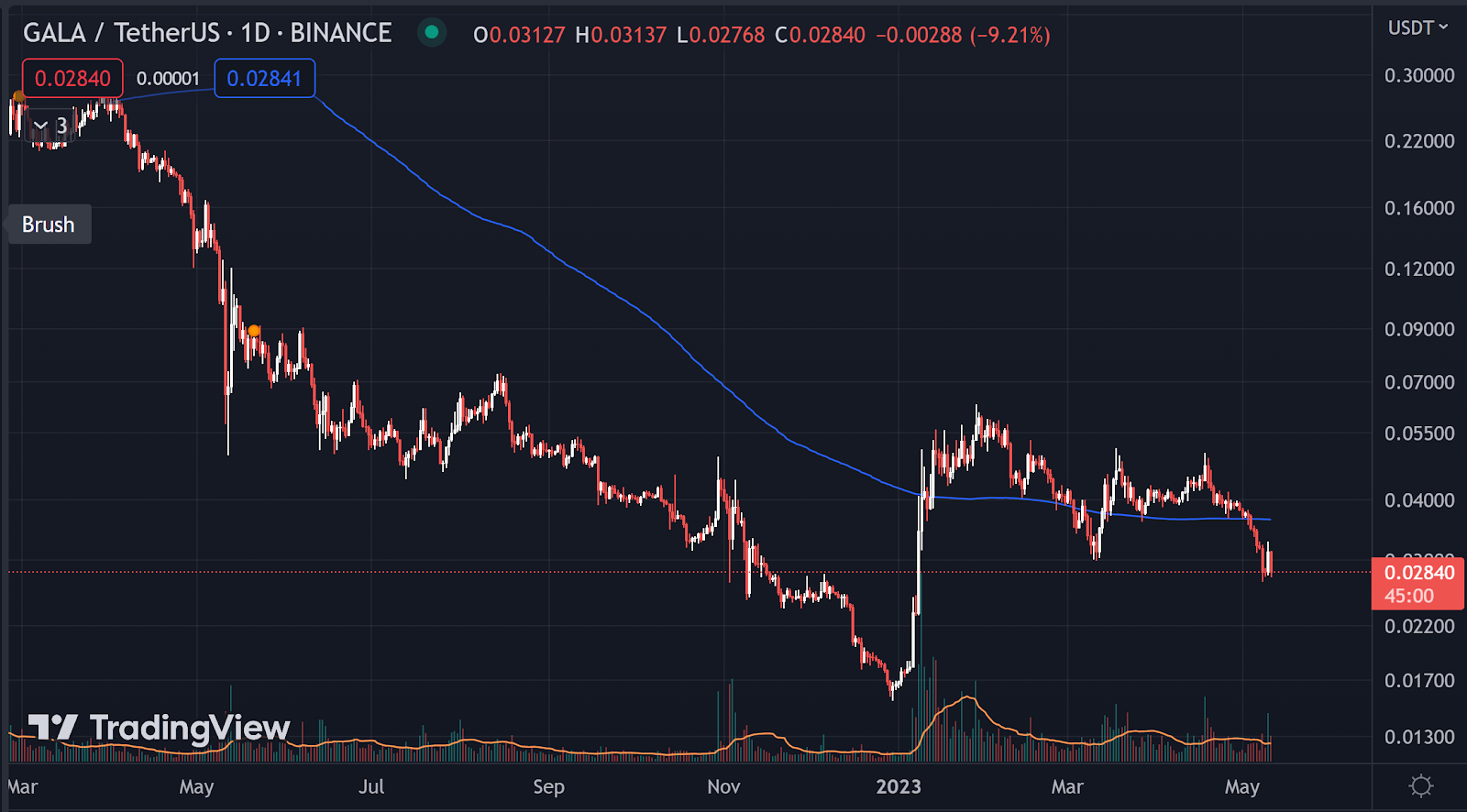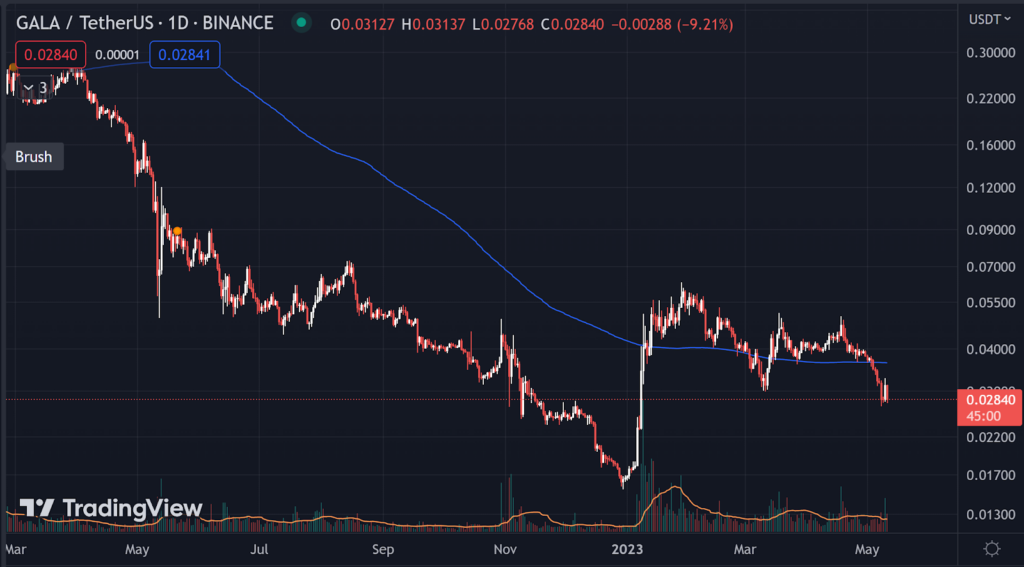 Overall, the GALA price analysis reveals bearish momentum in trading sessions with prices that is struggling with the $0.030 support level. The technical indicators also confirm the bearish outlook, but the market could reverse if it manages to show some reaction to the nearest support, which is around $0.2530 in the near term. Traders and investors should keep a close eye on the market movements and take appropriate measures to mitigate potential risks.
Fundamental Analysis of GALA Price
One of the major announcements for the GALA token is their recent decision to make an upgrade to the system. According to GALA's recent announcement, the GALA V2 token will be released on 15 May, 2023 with a 1:1 ratio. The upcoming token contract upgrade is expected to improve the token's functionality and performance, which may have a positive impact on its price and trading volume in the coming months.
In the past week, the token experienced a price decline, dropping from $0.03273 to $0.02705. However, despite this recent dip, GALA still boasts a market cap of $211,988,902 USD, a circulating supply of 6.98 Billion GALA, and a total supply of 35.24 Billion GALA as of today. With such a vast supply and growing interest in the gaming industry, the GALA token may still prove to be a wise investment choice in the long run.
GALA Long-Term Price Prediction
Based on the predictions, GALA's price is expected to continue its upward trend in the coming years. A bullish market for GALA would see the price breaking through key resistance levels, with the potential to reach $0.15 in the near term, $0.5 in the mid-term, and $1.50 in the long term. These price targets represent significant gains from its current price, indicating a positive outlook for GALA.
| | |
| --- | --- |
| Year | Predicted GALA Price |
| 2023 | $0.1525 |
| 2024 | $0.2191 |
| 2025 | $0.2989 |
| 2026 | $0.4037 |
| 2027 | $0.5485 |
| 2028 | $0.7539 |
| 2029 | $1.0569 |
| 2030 | $1.4997 |
GALA Price Prediction 2030
By 2030, we could see further mainstream adoption of blockchain technology and cryptocurrencies, which could drive up the demand and value of tokens like GALA. Therefore, 2030 could be a milestone year for GALA token. With a predicted price of $1.4997, it could mean that the token has cemented its place as a significant player in the gaming and cryptocurrency markets. This would be a remarkable achievement for a token that started trading at just $0.0014 in September 2020.
Achieving this price point would require a steady increase over the years, indicating sustained interest and adoption of the GALA platform and its games. The bullish market trend, increasing popularity of blockchain-based games, and strong development roadmap of GALA could be some of the driving factors behind this growth.
However, there are also potential risks and challenges, such as regulatory issues, technological advancements, and market fluctuations, that could impact the price and performance of GALA. Ultimately, it's important for investors to do their own research and make informed decisions based on their own risk tolerance and investment goals. In addition, it's essential to keep in mind that cryptocurrency markets can be unpredictable, and these predictions should be taken as potential scenarios rather than guarantees.
Buy GALA token on CrowdSwap with any token and enjoy a blazing fast transaction
Conclusion & Final Thoughts
In conclusion, GALA token is poised to make a significant impact in the gaming and cryptocurrency markets. With the growing adoption of blockchain technology and the rise of play-to-earn gaming, GALA has positioned itself as a player to watch. Factors such as the success of Gala Games' platform, the overall acceptance of blockchain in gaming, and major updates and developments can all influence GALA's price in the future.
Based on our analysis and predictions, GALA's price is expected to show good upward momentum in the coming years. With targets of $0.15 in the near term, $0.5 in the mid-term, and $1.4997 by 2030, GALA could provide substantial returns for investors. However, it's important to note that investing in cryptocurrencies comes with risks, and market fluctuations and regulatory issues can impact the performance of GALA and other tokens.
As GALA continues to grow and gain traction in the gaming industry, it's an exciting time for crypto and gaming enthusiasts. Whether you're a gamer looking to earn rewards and own in-game assets, or an investor seeking potential opportunities, GALA offers a unique proposition at the intersection of gaming and cryptocurrency.
Remember, the information provided in this blog post is for educational purposes only and should not be taken as financial advice. Stay informed, stay vigilant, and make informed decisions based on your own research and circumstances. Happy gaming and investing!
DISCLAIMER: The information given in this article is for educational purposes only and should not be construed as financial advice. Before making any investment decisions, it's crucial that investors do their own research, consult with a financial advisor, and consider your own personal financial situation and risk tolerance. The cryptocurrency market is highly volatile and unpredictable, and there are no guarantees when it comes to investing in any particular asset. By staying informed, conducting thorough research, and carefully considering all factors, investors can make the best decisions for their own unique circumstances.

FAQ:
How much will GALA be worth in 2025?
Based on predictions, the price of GALA will be around $0.2989 in 2025.
What will GALA be worth in 2030?
Our predictions show that in year 2030, the price of GALA token will be around $1.4997.
Can GALA coin reach $10?
It's not predicted that GALA can reach $10 in the short term or in the next 7 years.
How can I buy GALA tokens?Purchasing GALA is fast and easy through CrowdSwap DEX, and there's no need to consult an expert. If you can't find the token in the list, you can easily copy & paste the smart contract address in the search bar to add your desired token.