What is AAVE?
Are you ready for a wild ride through the world of cryptocurrency? Buckle up, because we're about to take a deep dive into one of the hottest tokens on the market right now: AAVE. This decentralized exchange token has been causing a stir lately, and traders and investors alike are clamoring to get in on the action. So what is AAVE, and why is it such a big deal? In this blog post, we'll explore everything you need to know about AAVE, from its origins and current market trends, to the factors that can influence its price, and the best methods for predicting its future value. So grab a coffee, sit back, and get ready to become an AAVE expert!
Cryptocurrency is totally booming in recent years, with new coins and tokens popping up all the time. One of the coolest tokens out there is AAVE, which is a decentralized exchange token built on the Ethereum blockchain. It's been getting a ton of attention lately, and people are really excited about its potential.
Suggested read: What is a DEX?
So, what exactly is AAVE? Basically, it's a way for people to borrow and lend tokens on the Ethereum blockchain. It's based on the AAVE protocol, and there are lots of different collateral options available. The token itself is used to pay fees and rewards on the platform, and it can also give you access to some pretty sweet features, like flash loans.
Price History & Trends
The market for AAVE saw a striking leap since it launched back in 2020. At its peak, the price went up by over 600%, which is seriously impressive. People are really into it because it's a low-risk way to invest in DeFi and get some great returns. In December 2020, AAVE's price was around $80, and it went up significantly, reaching an all-time high of over $600 in May 2021. This rapid growth was due to the growing popularity of decentralized finance (DeFi) and the increasing adoption of AAVE's lending and borrowing protocol.
However, AAVE's price has also been subject to volatility and fluctuations. In March 2021, AAVE's price dropped to around $300, partly due to a wider market correction that saw many cryptocurrencies experience a drop in price. Since then, AAVE's price has dropped nearly 90%, with some spikes in price due to positive market sentiment and increasing adoption rate. Currently (on April 2023), the price of AAVE is around 82%, which has decreased 88% from its all-time high (ATH).
Factors Affecting AAVE Price
AAVE's price is subject to several factors that can impact its value positively or negatively. Market sentiment, adoption rate, network activity, and regulatory developments are some of the key factors that can influence AAVE's price. Market sentiment, for instance, can be driven by news and events that affect the broader cryptocurrency market, including AAVE. Positive news, such as partnerships and new listings, can increase demand for AAVE, driving up its price, while negative news can trigger a sell-off.
Adoption rate and network activity are also important factors that can impact AAVE's price. As more users adopt AAVE's protocol and lend or borrow cryptocurrency assets, the demand for AAVE tokens may increase, driving up its price. Conversely, if adoption rate or network activity decreases, AAVE's price may also drop. Additionally, regulatory developments can significantly impact AAVE's price, as any negative developments can decrease demand for AAVE tokens. Therefore, it is important for investors to keep track of these factors and their potential impact on AAVE's price when making investment decisions.
Technical Analysis of AAVE Price
Based on the latest AAVE price analysis, the coin is currently trading at $67.7, which is lower than the daily high of $74.7. The bearish pressure has been increasing in recent days, outweighing buying pressure and causing a decrease in the value of the coin. AAVE is not an exception, as most cryptocurrencies are currently trading lower against the US dollar. The daily moving average indicator suggests that the price is likely to remain bearish in the near term, with the MACD showing a bearish crossover and the RSI is under 50%, heading towards the oversold market condition.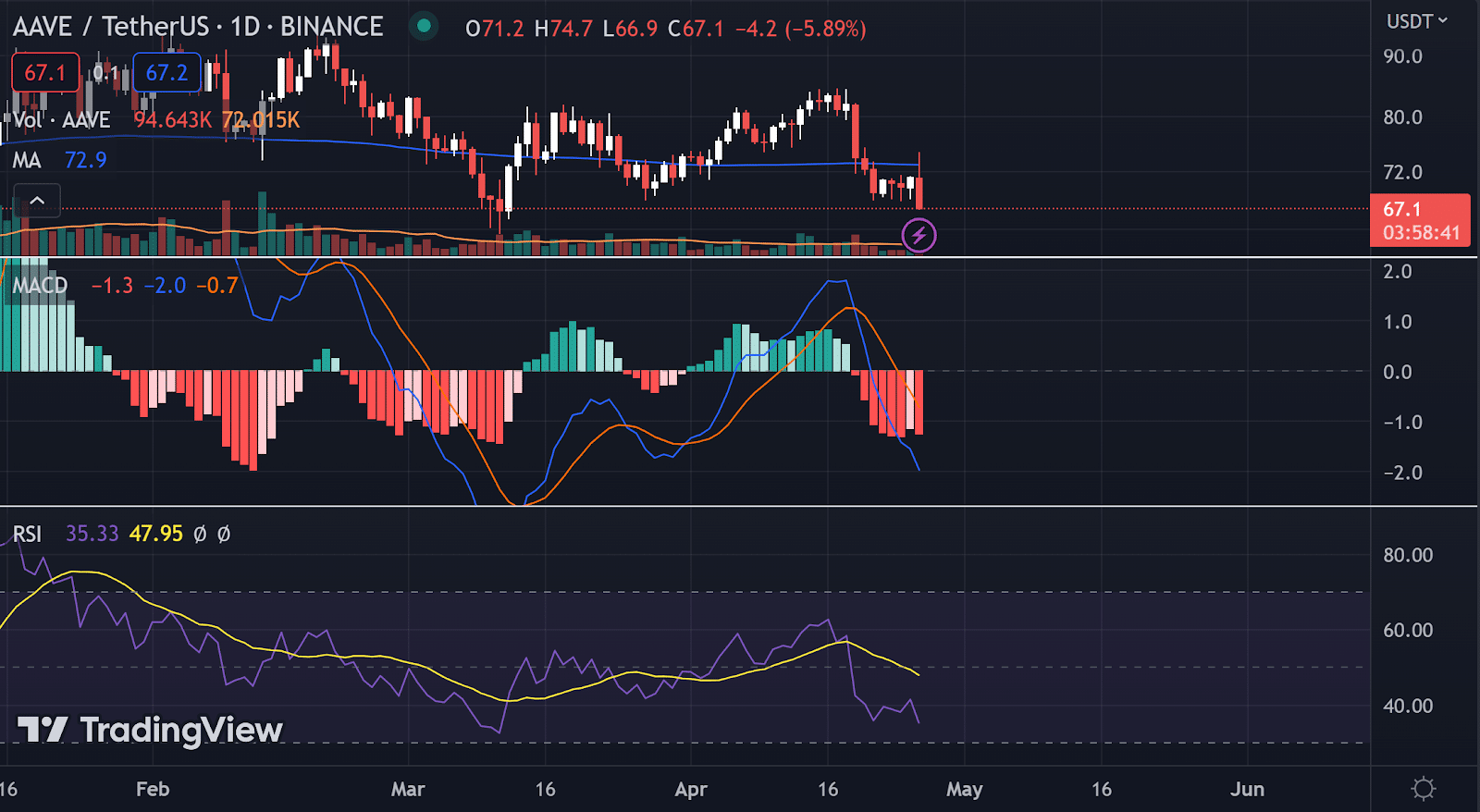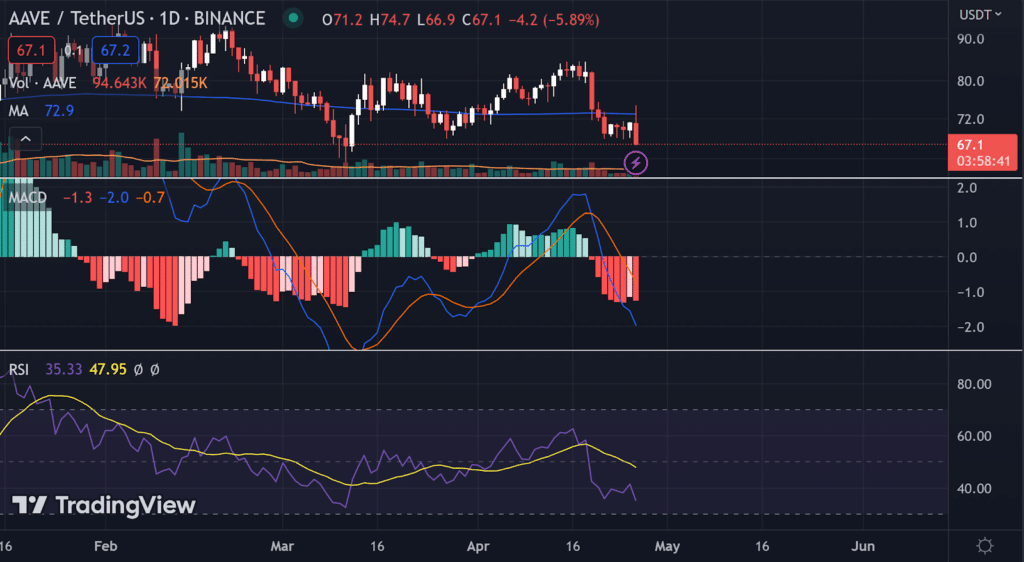 In the latest micro bull run when the price of BTC rose from $15,476 to $31,000, showing a 100.31% increase in price, many alt coins followed BTC to reach the May 2022 level, where there's a strong resistance. Unfortunately, this was not the case for AAVE. Although the basic trend of Q1 of 2023 was for the majority of the market to successfully break their 200-day SMA and retest the May 2022 resistance, AAVE failed to do so. Although AAVE broke SMA 200, it couldn't manage to hold its place and is currently struggling with it.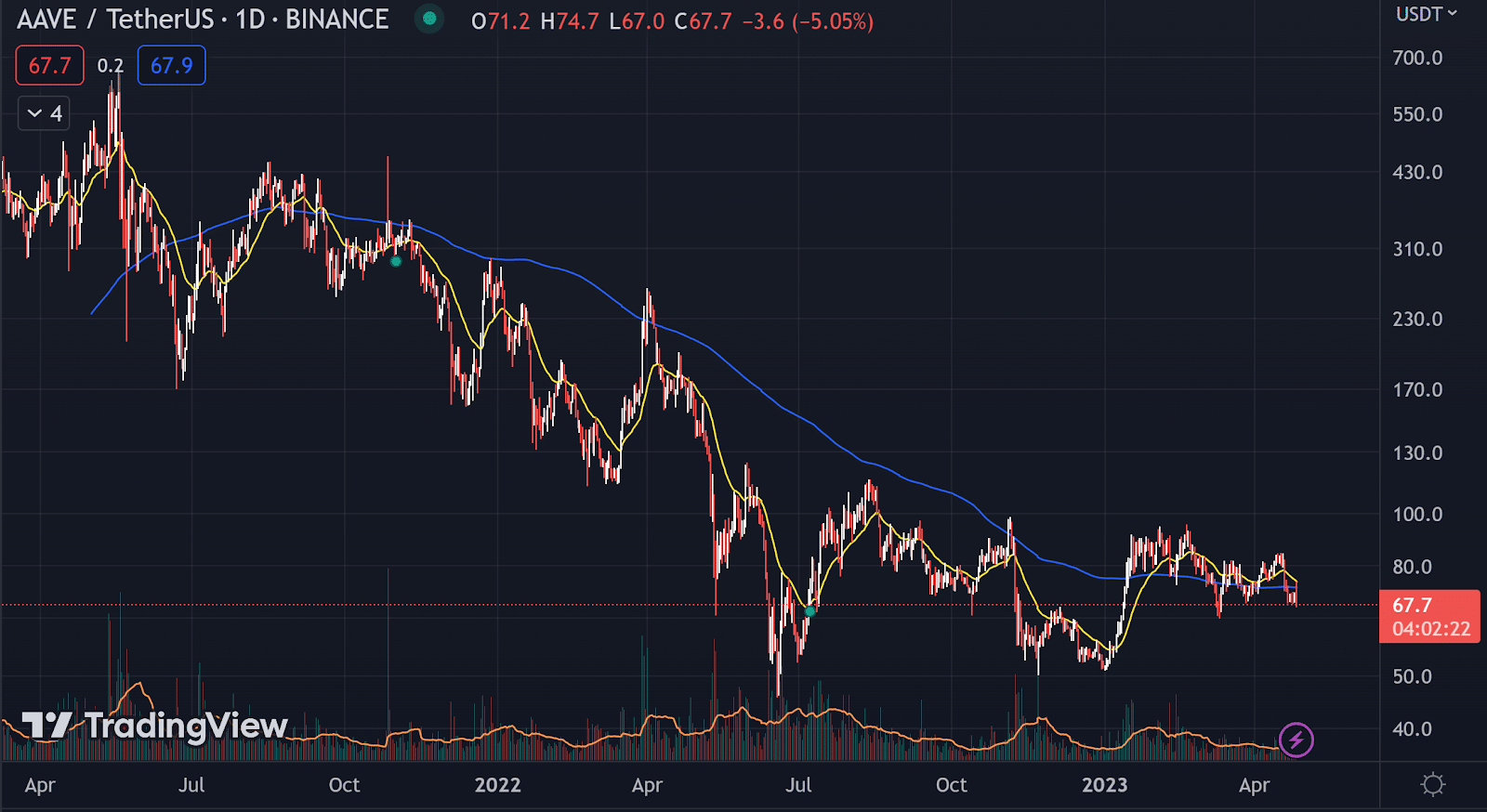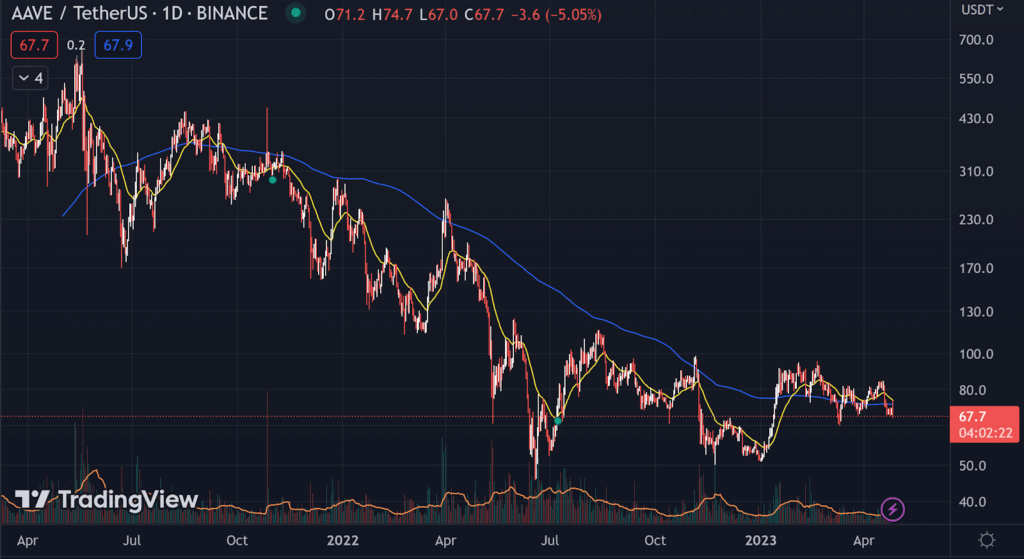 The AAVE price analysis daily chart shows that the coin is facing rejection under the psychological level of $100, and the price has been in a range between $50 and $100 for some time now. The 4-hour AAVE price analysis shows that selling pressure kicked in near the end of the trading session, causing the price to decline to $67.7 during the penultimate four hours. The bearish and bullish pressure is currently balanced near this support level, and the price could either break up or down from here.
Overall, the AAVE price analysis reveals bearish momentum in short-term trading sessions with prices testing near the $65.4 support level. The technical indicators also confirm the bearish outlook, but the market could reverse if it manages to break above the nearest resistance at $84.6 in the near term. Traders and investors should keep a close eye on the market movements and take appropriate measures to mitigate potential risks.
Fundamental Analysis
Another crucial fundamental factor that investors should consider when analyzing AAVE is its market cap, which is currently at $973,212,120, down 3.35% from the previous day. This figure represents the total value of all AAVE tokens currently in circulation and is a good indicator of the token's overall popularity and potential for growth. As AAVE continues to gain momentum in the DeFi space, it's likely that its market cap will increase, potentially leading to a rise in the token's value.
In addition to market cap, it's also important to keep an eye on AAVE's current price, which is currently at $67.7, down 4.63% from the previous day. This figure represents the current market value of a single AAVE token and can fluctuate depending on a variety of factors such as supply and demand, market sentiment, and external news events. Finally, the 24-hour trading volume for AAVE is $66,170,676, up 81.74% from the previous day, indicating a high level of trading activity and interest in the token. By taking all of these fundamental factors into account, investors can gain a comprehensive understanding of AAVE's value and make informed decisions about their investments.
AAVE Long-Term Price Prediction
Based on the historical growth of the cryptocurrency market, especially the DeFi sector, it is predicted that AAVE price will continue to grow. Therefore, some crypto experts believe that in the long term, the price of AAVE will increase exponentially and set new records as high as $12,000. The following table is the yearly prediction of the price of AAVE crypto for the coming years.
| | |
| --- | --- |
| Year | AAVE Price (USD) |
| 2024 | $500 – $1000 |
| 2025 | $800 – $1500 |
| 2026 | $1000 – $2500 |
| 2027 | $1500 – $4000 |
| 2028 | $2500 – $6000 |
| 2029 | $3500 – $8000 |
| 2030 | $5000 – $12000 |
AAVE Price Prediction 2030
With the exponential growth of the applications of cryptocurrencies in the world, the demand for alternative solutions to traditional banking is also rising. With this high demand, the value of projects like AAVE can increase as well. Based on the historical trend of the price of AAVE cryptocurrency, it is predicted that it will top $12,000, and set a new ATH. However, this is only a prediction and may not be entirely true because the crypto market is a very volatile one and it is not possible to give accurate estimates of the prices. It is also important to know that there are some other crypto experts who think the opposite and are more bullish towards AAVE price prediction.
Buy AAVE token on CrowdSwap with any coin and enjoy a blazing fast transaction
Conclusion & Final Thoughts
Of course, predicting the price of AAVE isn't an exact science. There are a bunch of different factors that can influence it, like market sentiment, supply and demand, and news and announcements. But if you want to give it a shot, there are a few methods you can use. You could try technical analysis to look for patterns in the price movements, or fundamental analysis to look at the underlying factors that affect the token's value. You could also check out sentiment analysis to see what other traders and investors are saying.
If you're thinking about investing in AAVE, it's definitely important to do your research and stay up to date with the latest news. And remember, there's always some risk involved when you're dealing with cryptocurrency. But as long as you're careful and informed, you can make some pretty smart investment decisions.
DISCLAIMER: The information given in this article is for educational purposes only and should not be construed as financial advice. Before making any investment decisions, it's crucial that investors do their own research, consult with a financial advisor, and consider your own personal financial situation and risk tolerance. The cryptocurrency market is highly volatile and unpredictable, and there are no guarantees when it comes to investing in any particular asset. By staying informed, conducting thorough research, and carefully considering all factors, investors can make the best decisions for their own unique circumstances.
FAQ:
What is the all-time-high (ATH) value of AAVE?
According to AAVE's price history, its highest recorded value was $664.01, which was reached on May 18, 2021.
What is the all-time-low (ATL) value of AAVE?
According to AAVE's price history, its lowest recorded value was $26.03, which was reached on Nov 5, 2020.
How can I purchase AAVE?
Purchasing AAVE is fast and easy through CrowdSwap DEX, and there's no need to consult an expert.